How to Enable Dark Mode on Facebook (Comprehensive Guide 2023)
How to Enable Dark Mode on Facebook: Facebook is the most widely used social media platform in the world. You can connect and share ideas with people from many countries. The usage of Facebook for day-to-day activities has risen astronomically.
In recent times, Facebook launched the dark theme mode, a discernable trend in mobile platforms these days. For instance, Youtube introduced a dark mode theme not long ago. Facebook Dark mode theme is available for use and accessible on Desktops, Android and iOS modes. This post will explore how to enable Facebook dark mode.
Benefits of Facebook Dark Mode
The Facebook dark mode comes with numerous benefits. It facilitates visual ergonomics by lowering the straining of the eyes. This makes it easier to use the app in dark areas or dim environments. It is amazing to note that it enables the adjustment of the screen to reflect varying light conditions.
Furthermore, Facebook Dark mode is energy-saving and lowers the utilization of battery power. This means it helps your battery last longer, so you can use your phone without charging for long.
To enable Facebook dark mode, follow the steps below:
How to Enable Facebook Lite Dark Mode
You can now enable Dark Mode on Facebook Lite on both iOS and Android phones. The steps below will guide you in accessing the Facebook Lite Dark Mode on your iPhone or Android.
Start by updating the version of your Facebook Lite app.
Log in with your Facebook details after installing the app and tapping it open.
Tap on the menu at the upper right corner
Now Scroll Down till you see dark mode.
Now Toggle it ON,
Boom!. you are now on Facebook dark mode.
But if you are yet to access the dark mode enable toggle after following our instructions, it might be due to the fact that the feature has not been approved for your country or your Facebook app is not updated, as updated apps can readily access this feature.
If you have Facebook Lite installed and running on your iPhone and you wish to enable dark mode on it, kindly follow the above process because it's the same thing with android.
How to Enable Dark Mode on Facebook
To enable Dark Mode on the Facebook main app, follow the steps below:
Login to the official Facebook App
Click on the menu bar at the top right.
Scroll down to Settings.
Switch the dark mode to ON.
Read: Facebook Ludo Game Free To Play | Facebook Games
Enable Facebook Dark Mode on Android Through Third-Party App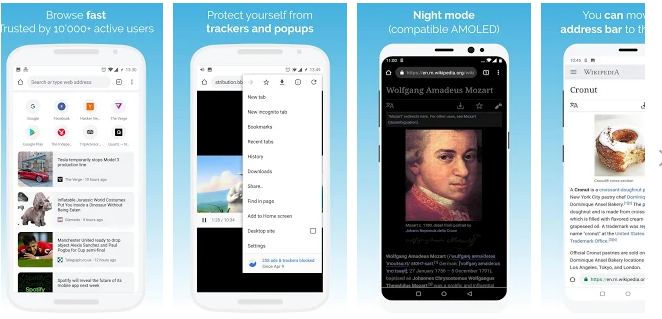 If you access Facebook via a browser or you prefer using Facebook at night or in an environment with inadequate lighting, follow the steps below:
First, Download Kiwi Browser on your Android through Play Store.
Install the App And Launch It.
Search For Dark Reader in the address bar. Click on the first link.
You will be taken to Google Chrome Extension Page
Click on ADD TO CHROME.
Now Enable the Extension, and you are good to go.
Now visit Facebook with the browser, and you will have Dark Mode enabled.
Read: Facebook Pay Via Messenger App – Facebook Pay Setup | How to Setup Facebook Pay
Your default mobile browser does not have a dark mode feature, so the KIWI browser is a sure bet to enjoy dark mode Facebook via mobile.
How to Enable Dark Mode on the New Facebook for PC
If you are using the old version of the Facebook web, you may not find the Facebook dark mode. Meanwhile, it is accessible on the new Facebook web.
Facebook's new dark mode feature is not available for all users. But if you get a message from Facebook that invites you to check out the new dark mode web interface, you'd have to use that route to access it.
Login to your Facebook Account
You will be switched to the new Facebook user interface.
Now Click on the drop-down arrow ⋁ which is located at the top right corner.
Toggle the dark mode Switch to ON.
If you can't access the switch to the new Facebook, it means the version has not been approved for your region or country. You have to exercise patience because the feature will be rolled out to all Facebook users.
Recommended:
How to View Archived Stories on Facebook (2023 Guide)
How to Find Drafts on Facebook App for Android and iPhone (2023 Guide)
Facebook Pay Via Messenger App 2023 (How to Setup Facebook Pay)